Create a Position User Guide
Routing for Approval
Once you have completed the steps to Create a Position, a Review screen will pop up that includes all the information entered during the Create a Position process. Before clicking the Submit for Approval button, check through all the sections to make sure they are complete and content is compliant.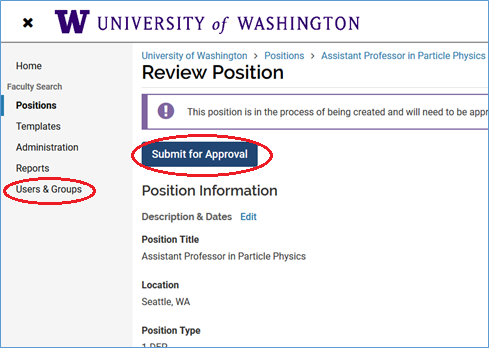 If you skipped entering the search committee or evaluation criteria, remember to edit the position and add that information before applicant screening begins. Academic Personnel will not hold up your posting if these sections are incomplete, but the hire into Workday will not be approved until all information is accounted for.
If your chair or dean has recently changed, you may want to double check that they have been assigned the proper approval title according to the Position Type.
To check, click Users & Groups in the left column menu.  Search for your approver by typing his/her name into the search field. To serve as a Chair or Dean/Chancellor approver, the individual (or their delegate) must be given the Administrator role and then the Chair or Dean/Chancellor title. For more information on assigning approver titles, please review Add additional administrators as approvers.
BEST PRACTICE - One Last Check
Before submitting your position for approval, it is recommended that you check and double check that the content you've entered throughout the Create a Position process is accurate and in compliance with UW standards. If an approver sends a position back for revision, the revised position will need to be resubmitted through the entire approval chain which could result in an unwanted delay in posting your position.
The extra time you take to review content before clicking Submit for Approval will be far less than the time it takes to reroute the position through the approval chain.
If you are confident the position and search information is correct, click Submit for Approval. The information you entered throughout the Create a Position process will be routed to a chain of approvers predetermined by the Position Type you selected early on in the process (i.e., 1-DEP, 1-UNDEP, etc…). All FS searches at UW must be routed for approval prior to internal and external posting.
An email will be sent to the approvers notifying them a position requires their approval. Units may continue to edit and prepare the position while awaiting approval. You will receive a notification once your position is approved or if changes need to be made to the position.
Revising the Position during the Approval Process
Should approvers require or suggest changes to your position, you will receive an email notification with the required/requested change and directions on next steps.
Once you have revised your position, you will need to resubmit your position for approval. You will receive a notification once it is approved and you are authorized to proceed with your search.
Last updated August 18, 2022 at 9:37 am
---