Create a Position User Guide
Building the Job Posting
The following text fields combine to serve as the position announcement visible to applicants. Advertisements posted in journals, listservs, and other recruitment outlets should mirror the language entered here. The Administrator should make sure the content of these sections align with search committee and/or unit leadership expectations of the position and the search.
Units who anticipate the potential to hire a non-U.S. worker whom they would want to sponsor for permanent residency should carefully review additional position description, qualification, and advertising requirements as outlined in the UW International Scholars Operations team's Permanent Residency Requirements.
Position Description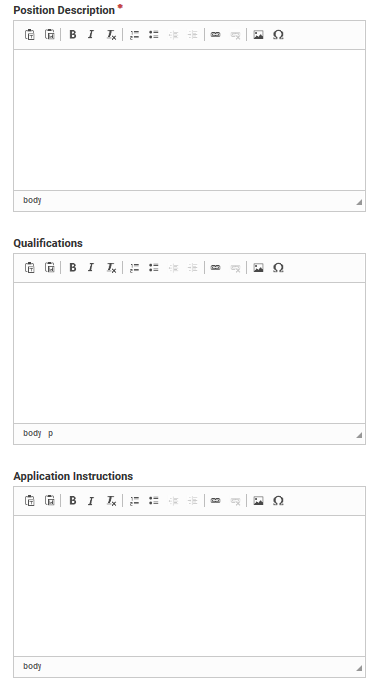 In the Position Description field, describe the position and invite job seekers to apply. At a minimum, this section must include:
Appointing unit
Rank and title (as listed on Academic HRs' Academic Titles and Ranks web page)
Discipline/Area of specialization and sub-discipline if applicable
Indication of full or part time status or potential for either
Service period (e.g., "Assistant Professors in the Department of Physics have an annual service period of nine months [Sept 16-June 15]"; "UW Librarians have an annual service period of 12 months [July 1-June 30]")
Relationship to tenure (i.e. tenured, tenure eligible, without tenure by reason of funding, non-tenure eligible)
Anticipated start date
Number of positions your search is approved to hire (e.g., The College of Built Environments invites applications for up to three full-time Lecturer positions in…)
Brief essential functions or expectations of the position (e.g. The successful candidate will be expected to…). If creating a faculty position, be clear about what teaching duties, if any, the position involves including classroom instruction, mentoring, supervising, and/or lab instruction. (Specific language to include at end of job description for postdoctoral scholar titles.)
Monthly base salary range and other planned compensation for the position. See Salary Disclosure in UW Academic Job Postings for required language.
BEST PRACTICE – Position Description
When crafting the Position Description, keep in mind that you are trying to recruit the best people to come to UW. Include positive, inviting language. Briefly highlight why your unit would be a great place to work and what the position entails. Work for clarity and brevity in your description. Think about expectations in terms of primary duties or general categories.
An example of an inviting (and compliant) opening statement might be:
The School of Music within the College of Performing Arts at the University of Hogwarts invites applications for a full-time, tenure-eligible position as Assistant Professor in Ethnomusicology with an anticipated start date of September 2019. Tenure-track faculty have an annual service period of nine months (Sept 16-June 15). We are particularly interested in applicants with a musicological approach to the discipline.
The successful candidate will be expected to teach at the graduate and undergraduate levels, recruit and retain outstanding students, assist in the development of a new interdisciplinary graduate program in Ethnomusicology, conduct quality research that complements existing School of Music inquiry, actively participate in service to the university and profession, and promote a diverse and inclusive community of faculty, staff, and students.
The School of Music is committed to providing a world-class musical education to University of Hogwarts students. Our faculty include some of the brightest and most innovative scholars in the discipline. We invite you to learn more about the School of Music and the University of Hogwarts by visiting UHmusic.edu and UH.edu, respectively.
For more information on writing quality job postings, visit the Handbook of Best Practices for Faculty Searches – Part 3: Outreach.
BEST PRACTICE – Positions eligible for permanent residency sponsorship
Units should be aware that the Department of Labor will consider all education, experience, skills, and qualifications listed in the job posting to be requirements, even if the advertisement says they are preferred or ideal or otherwise not a minimum qualification. With that in mind, it is recommended that units include only qualifications essential to the job. Units will need to provide proof that the successful candidate met the all requirements listed in the job posting by the time of hire.
Anticipated job duties are not considered required qualifications by the Department of Labor, but can yield a stronger applicant pool and support a more efficient screening process. By describing job duties in the advertisement, units help the applicant determine and articulate their fit for the position; for example, "The successful candidate will be expected to teach at the undergraduate and graduate level which may include courses on quantum chemistry…"
In addition to screening for qualifications, search committees can screen for an applicant's potential to fulfill the anticipated job duties of the position. In the example above, search committees might reasonably consider an applicant with experience teaching quantum chemistry more qualified than an applicant without that experience, even though experience teaching quantum chemistry was not listed as a requirement in the job posting.
Qualifications
In the Qualifications field, enter required qualifications and desired/preferred qualifications, as applicable. Remember to consult with search committee and/or unit leadership on qualifications before entering them into FS.
Units who anticipate the potential of hiring a non-U.S. citizen whom they would want to sponsor for permanent residency should carefully review additional information and considerations regarding qualifications as outlined by the UW's International Scholars Operations team at Permanent Residency Requirements.
Application Instructions
All applications materials should be submitted through or uploaded to FS. Be clear about what materials are required and the preferred/required format of those materials. Visit Accepted File Types and Document Types for information on accepted file/document types. Later in the Create a Position process, you will need to tell the system what documents to prompt applicants to submit. The instructions you enter here should align with what you tell the system later in the process.
This section is also the place where you should articulate the initial review deadline if you have one (e.g., "Complete applications received by October 15, 2018, will be given preferred consideration" or "Initial deadline for receipt of complete applications is October 15, 2018").
Equal Opportunity Statement
The University of Washington has configured FS to automatically populate the Equal Employment Opportunity field with UW's EEO Statement and a Commitment to Diversity Statement. These statements will be appended to all job postings in FS and cannot be changed/deleted. The unit does not need to take any action in this field.
Commitment to Diversity
At their discretion, units are welcome to encourage one or more underrepresented populations to apply, but may in no way imply or state a preference for a specific population. For example, "Women and minorities are encouraged to apply" is fine; "We hope to hire a female candidate" is not. Draft ads that imply or state a preference will be returned for revision.
Click Save & Continue.
Last updated November 17, 2022 at 8:26 am
---